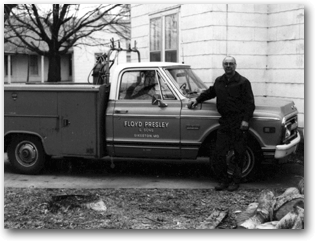 In 1946 , Floyd E. Presley Sr., started serving the Southeast Missouri area doing refrigeration repair. He was trained by Mr. Henry Cutliff, who was one of the first to graduate the Frigidaire school. Floyd Sr. started servicing reach in boxes, coolers, and freezers at Mom and Pop grocery stores in the country. He then moved into working on and installing commercial and residential Furnaces and Air Conditioners. Floyd E. Presley Sr. had three sons that started working in the family business as soon as they were big enough to carry his tool box. The tool box was one of the old heavy tool boxes that in today's world would have wheels. Floyd Sr. didn't believe in making a bunch of trips to the truck, so he tended to keep ALL of his tools in the one tool box.
All three boys would work after school, on weekends, and during the summer until they graduated. His wife, Mary Etta Presley maintained the home, served as company receptionist, bookkeeper, dispatcher and principal disciplinarian for the boys.
Floyd Sr. retired in 1987 at which time Floyd Jr. became the company's leader. In the years that followed Presley Sales & Service grew in numbers and services offer like plumbing, electrical and full in-house residential & commercial installation services.
Presley Sales and Service is proud to be a family owned and operated corporation, with the combined knowledge of three generations.